Hoopfull, our therapist directory for licensed mental health professionals, was launched 18 months ago. The goal was to make mental health services more accessible in the MENA region. Last week, we presented our observations at the International Psychology Conference Dubai. We discussed the public and clinicians' needs and wants regarding mental health services. This is a summary of our findings.
What is the public looking for when searching for a therapist?
Our data shows that clients either seek a particular form of therapy or help for a problem or symptom. The most popular therapy modalities searched were play therapy, couples and family therapy, Eye Movement Desensitization and Reprocessing (EMDR), art therapy, sex therapy and somatic therapy. The problems and symptoms clients needed help with were e.g. domestic violence, schizophrenia, sex addiction, anxiety, grief and obsessive-compulsive disorder (OCD).
These searches may indicate that some clients are seeking therapy for the first time because a symptom or a problem has become overwhelming. Others, on the other hand, are familiar with therapy and are looking for a particular modality to meet their needs.
Clients also searched for therapists who either had a particular specialization or were familiar with their culture. Educational and neuropsychologists were sought-after specializations. Clients were looking for e.g. a British, Indian or Lebanese psychologist.
What therapist profiles attract the most attention?
We analyzed the ten most viewed therapist profiles. Nine of the most popular profiles were profiles of psychologists and psychotherapists and one was a psychiatrist profile. Three of the psychologist profiles were that of either a neuropsychologist or an educational psychologist. In addition to working with individuals, these ten clinicians worked with specialist groups. Seven worked with children and teenagers, four were trained in working with groups, three clinicians worked with families and three were trained in couples work.
The most popular approaches these clinicians were either trained or informed in were:
Acceptance and Commitment Therapy (ACT)
Cognitive Behavioral Therapy (CBT)
Emotion-Focused Therapy (EFT)
Exposure Response Prevention
Family Systems
Integrative Therapy
Mindfulness-Based Cognitive Therapy (MBCT)
Play Therapy
Psychodynamic Psychotherapy
Solution-Focussed Brief Therapy (SFBT)
Somatic Therapy
When we looked at the language that the therapists with most profile views spoke, we found four South Asian languages: Urdu, Tamil, Hindi and Malyalam. In 2015, it was estimated that the majority of expats in the UAE, approximately 60%, are from South and Southeast Asia. Hence, the languages clients searched for is not a surprise. Other languages that the clinicians in the top ten spoke were Arabic, French and Portuguese.
Which blog posts are most popular?
Hoopfull's two most-read blog posts are about Dubai Health Authority (DHA) and Community Development Authority (CDA) licensing. Until we published How to become DHA licensed as a psychologist in Dubai and How to get CDA licensed as a therapist in Dubai, 70% of visitors to our website came from UAE. The publication of these blogs changed our visitor profile. Visitors from the UAE dropped to 50%, and visitor numbers from India, Pakistan and the UK increased.
Google searches related to, for example, the DHA exam, also brought visitors to our website. In line with these searches, our third most-read post is for therapists interested in working in Dubai: Therapists needed in Dubai.
The most popular blog post for the public was about neuropsychological assessments. As mentioned earlier, clinicians trained in assessments and evaluations are sought after in the region.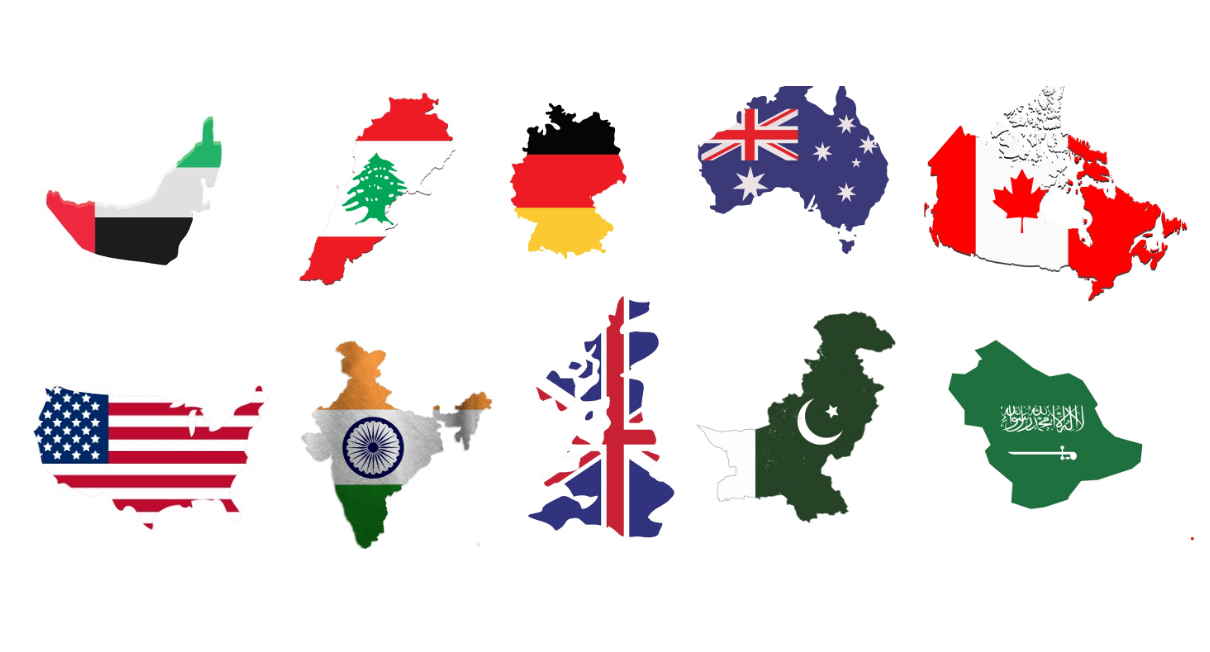 The top ten countries Hoopfull gets visitors from are: the UAE, India, UK, Pakistan, US, Canada, Lebanon, Germany, Australia and Saudi Arabia. Almost half of our visitors are from Dubai. Other Emirates are represented as well. We get searches from Abu Dhabi and Sharjah. Our visitors abroad live in London, Mumbai, Kochi, Karachi, Beirut, Riyad and Lahore. These results suggest that Hoopfull serves the public locally and mental health professionals abroad considering a move to the UAE or MENA region.
What needs do mental health professionals working in the region have?
Hoopfull supports therapists at different stages in their careers. Nearly qualified therapists can benefit from Hoopfull's platform to build their caseload and find a supervisor locally. Experienced therapists can use their profile on Hoopfull to work with clients who match their areas of competence and specialization. Clinicians who are new to Dubai benefit from Hoopfull's resources regarding licensing. Our website can give them an idea of the existing mental health services and allows them to raise their profile.
In addition to the therapist search option, clinic directory and blog, Hoopfull also has a Jobs and Internships page. This page is a popular one, though especially internship opportunities are, unfortunately, rare. We also have an Events page where centres and individual therapists can promote their training and workshops for the public and professionals. Trainings that have received the most views were EMDR training with a specific Middle East focus, ongoing Trauma-focused CBT training and in-person ACT training in the spring of 2023. Clinicians are looking for training that is relevant to the MENA region and in-person events.
Conclusions
Based on our data, the public is looking for child specialists, neuropsychologists and educational psychologists. They also want to work with therapists familiar with their culture and/or language. There is a need for therapists with specialist skills for complex situations, especially couples and family therapy. Experience and expertise are needed as support services in the community are still emerging in the region.
Therapists whose profiles attract the most attention in our online therapist directory work with those under 16, are familiar with South Asian culture, work either with couples or families and offer psychological evaluations and assessments.
Mental health professionals need help with the licensing process, continuing professional training, especially if offered locally in person, and information about open vacancies and and internship opportunities.
At Hoopfull, we are committed to increasing the profiles of qualified psychologists, psychotherapists, counselors, social workers and psychiatrists in our therapist directory. Dubai is well represented, but we want the rest of the MENA region can be represented better. We also want to increase our support to trainees in finding internships and newly qualified therapists to get through the licensing process and find jobs. There is a continued need for further professional training offered in person and/or tailored to fit the population's needs in the MENA region.